Welcome to World of Birds!
Where you will find hand fed baby parrots and a huge selection of toys, foods and accessories for all types of birds.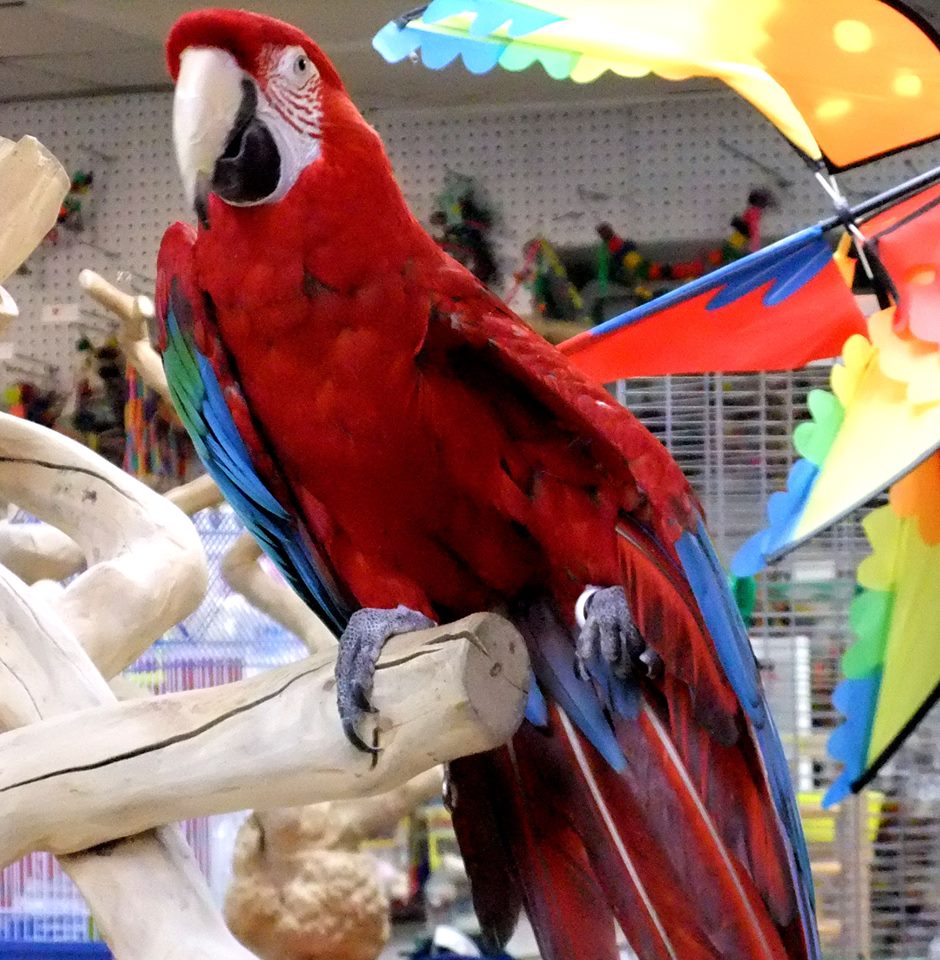 Katie, our 32 year old Green Wing Macaw
At World of Birds you'll find a large variety of fine pet bird products. We offer dozens of products, such as cages, play-gyms, foods and treats and an extensive selection of toys. We carry Harrisons Pellets, ZuPreem, Abba Seed, Goldenfeast, Island Treat, Lafebers, Volkman, Roudybush and our very own World of Birds custom blends. We take pride in our fast shipping and our excellent customer service.
Established in 1972, our family business has grown with our customers, who appreciate the personalized attention given to each of them. So why not join the many satisfied customers who have made World of Birds their first source for bird products?
Latest updates as of 3/30/20. We will remain open regular hours, as pet stores supplying foods are listed as essential retail, with the following added provisions;
we will no longer be allowing any baby bird visitations. You will still be able to pick up your bird when he is weaned and ready to go and reserve any new baby over the phone (* follow our Facebook page for the latest baby news)  but in person interaction during this crisis is no longer permitted.
we will not be taking any groomings or new boarding birds at this time.
all seed blends are now sold pre-packaged. No self serve available
Bulk bags of seed are not available for sale at this time.
we strongly encourage calling in/prepay orders for curbside pick up. You will also be able to check the status of blend availability, as it constantly changes.  However, if you are coming into the store, please have gloves and face coverings for everyone's safety.
Social distancing of 6-10 feet is mandatory. 
When ordering seed from our website, we are only allowing a maximum of 10 lbs. of each  type of food ordered. There will also be a limit of 2 each on smaller items, such as Nutriberries, Yogurt Chips, Egg foods, etc....
Thank you and stay safe
Check back often for specials, sale items, and new products! We also special order products that we might not always carry in our store. Just give us a call and we will do our best to find them for you.
Be sure to sign up for our newsletter while you are shopping our on line store. You can expect special discount coupons, new baby bird announcements and updates on the newest foods and products available.
We offer a large selection of hand fed baby birds at our store.
NJ BORN AND BRED The majority of our babies are bred right here in NJ. The few that we get from out of state are from trusted breeders that we have known for years.
Our specialties are African Greys, Amazons, Cockatoos, Pionus, Conures, Cockatiels, English Budgies and Lovebirds. You can also purchase Canaries, Finches and Parakeets at all times of the year. While we always love to meet our new birdie families, we do offer safe, same day shipping with Delta Airlines for our out-of-state customers. 
We  offer shipping with Delta Airlines for $225 for baby birds going out of state.
We update frequently, so please return often to see what's new!